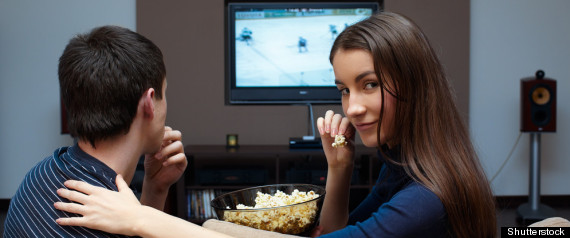 Were you up late last night watching the playoff battle between two of the most storied franchises in the National Hockey League, the Phoenix Coyotes and the Nashville Predators? I wasn't.
And to those of you like me, it looks like we're not alone in
avoiding a social life for playoff hockey
– a new survey from dating website Match.com found that 14 per cent of Canadian single men and 10 per cent of their female counterparts went on fewer dates between April and June, the most wonderful time of the year. New Brunswickers and Newfoundlanders were the most likely to put hockey ahead of romance, with 25 per cent of singles from the Eastern coast saying they went on fewer dates and 19 per cent of New Brunswick singles opting for the puck instead of, umm, sharing feelings.
Perhaps the most interesting detail to emerge from the survey is that singles from Quebec put a higher premium on hockey love than any other province - 23 per cent of them say they would not date someone who doesn't like or follow hockey. (Of course, "hockey", in this instance, likely refers solely to "the Montreal Canadiens") So, ladies and gents, if you're looking for someone who understands that you just
need
to watch every 10 p.m. game between Phoenix and the Los Angeles Kings in the conference finals, head east. Otherwise, stay put.
[
Vancouver Sun
]